Career Outcomes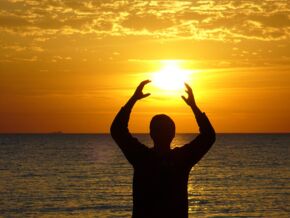 Kinesiology is an expanding field of complementary medicine where both clients and practitioners are experiencing the real benefits of the modality. It is one of the fastest growing natural therapy today and the demand for qualified, skilled practitioners is rapidly growing in Australia and overseas.
NK Institute graduates have a number of career opportunities. Once they've completed the HLT52415 Diploma of Kinesiology they will meet the requirements of professional accreditation and will be eligible to register as a level 5 practitioner with the Australian Kinesiology Association (AKA).
However, the advantages provided by the HLT52415 Diploma of Kinesiology and the 10125NAT Advanced Diploma of Neuroenergetic Kinesiology are not limited to professional memberships. The skills learnt throughout these qualifications will suit people already working in the health, allied health and complementary health sectors. Kinesiology will not only contribute advanced knowledge and specialised techniques to your existing practice, it will also improve the health outcomes of the patients in your care. The courses offered in our qualifications are kept up-to-date with the latest research and scientific evidence regarding areas of neuroscience, psychology, endocrinology, immunology, genetics, pathology, biochemistry, anatomy and physiology.
Allied Health Sector
Practitioners of various allied health professions would greatly benefit from the addition of kinesiology techniques to their practice. These professions include but are not limited to:
Aboriginal and Torres Strait Islander health practitioners
Chiropractors
Medical radiation practitioners
Occupational therapists
Osteopaths
Physiotherapists
Podiatrists
Psychologists
Social workers
Complementary Health Sector
Existing practitioners of complementary therapies can also diversify and complement their services by adding kinesiology techniques to their repertoire. Kinesiology is highly adaptable to your practice and would benefit practitioners of the following modalities:
Acupuncture
Aromatherapy
Ayurveda
Homeopathy
Kinesiology
Massage
Naturopathy
Nutritional medicine
Reflexology
Shiatsu
Traditional Chinese medicine
Western herbal medicine
Career prospects
Develop your own business or add to your existing business;
Possibility to charge $80-$150 per session;
Depending on your availability and desired lifestyle, you can see comfortably accommodate 10-20 clients per week or more;
Networking and involvement in the community will increase your visibility and financial outcome;
Incorporating kinesiology with existing modalities can successfully increase the prosperity of your business.
Market Outlook
Market research data reveals Australians have been increasingly turning towards natural health care products and services with a growth rate of 7% per year. Furthermore, statistics show that a quarter of Australians are now visiting complementary healthcare practitioners each year. Below are some statistics demonstrating the increasing in demand for complementary health services in Australia. All data comes directly from the Four Year Work Plan for the Complementary Health Industry Reference Committee (IRC) that was submitted to the Commonwealth.
In 2015 private health insurance benefits were paid for 87.256 million allied health services, an increase of 3.2%.
Increase in Australia of the use of complementary health therapists on a regular basis to manage chronic or debilitating conditions.
Research conducted within Australia suggests that General Practitioners commonly refer patients to, and encourage the use of, acupuncture, massage and yoga for the treatment of back pain (the second most common complaint by patients in general practice, affecting 75% of the Australian adult population).
Studies have found that individuals with musculoskeletal conditions, conditions that are complex and conditions requiring pain management are more likely to have visited a complementary health practice.
Furthermore, complementary health disciplines such as Ayurveda and Traditional Chinese Medicine Massage attract people who identify with a broad range of cultural backgrounds. Growth in the number of culturally diverse people in Australia, particularly through the rising rate of migration from Eastern and Asian countries, is also anticipated to stimulate demand for the industry.
Given the challenges associated with the provision of traditional health care in rural and regional communities, the presence of complementary health practitioners in these areas acts as a key, often untapped, health care resource. The prevalence of practitioners outside of urban centres was reflected within a recent survey of 649 Australian massage therapists, indicating 44.38% of practitioners operate in a rural or regional area.
The majority of complementary health businesses are overseen by a professional body or association, which accredits the level of training and monitors quality provision. The role of associations became particularly important in 2009 when private health rebates became available only to those members of a professional association. Practitioners wishing to provide services that attract private health insurance rebates are required to be a member of a professional body with entry-to-practice requirements. Practitioners must also comply with requirements to hold appropriate insurances and first aid certification and undertake ongoing professional development. Within this system there is an intrinsic link between nationally recognised qualifications and gaining membership, with the accrediting professional body or association requiring the practitioner to hold a specific qualification.
Booming private health insurance membership numbers have also driven growth for complementary health businesses, as many policies offer alternative treatments as part of extras or ancillary coverage, diminishing the cost of visiting complementary health practitioners. Research anticipates that as many as 11.5 million Australians will choose to hold private health insurance in 2016, accounting for almost half of all the population.
In 2014-15, 5.7 million claims were made for natural therapies at an estimated cost of $173.5 million, and these figures are set to increase in 2016.
Since 2011, the complementary health sector has experienced a surge in employment attributed to growth across the broader health sector. The improved perception of complementary health disciplines as a professional career pathway has contributed to increases in employment, along with a need for employers to recruit additional, often part-time, supporting staff to meet growing demands. Furthermore, employment growth has been driven by increases in the number of businesses operating across Australia.