Hugo Tobar, Founder of NK Institute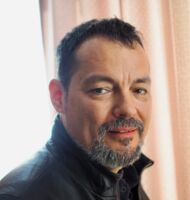 Hugo Tobar is the founder of 'Neuroenergetic Kinesiology' (NK), one of the world's most modern and advanced streams of Kinesiology. He has been developing courses since 1998 and teaching internationally since 1999, after discovering Kinesiology during a three-year study of eastern philosophies while living in India - a time that would prove foundational, both in the overall direction of Hugo's life and the subsequent development of NK.
On his return to Australia, Hugo began studying Kinesiology with notable Kinesiologists such as Charles Krebs PhD (founder of LEAP), Chris Rowe and Kerryn Sedgman.
After obtaining a Diploma of Holistic Kinesiology in 1997, he continued his training with Charles Krebs and Richard Utt (founder of Applied Physiology).
By this stage, Hugo had started developing his own ideas, which he now shared with his colleagues. Charles Krebs immediately recognised the potential of these ideas and invited him to present a paper at the 1999 Applied Physiology annual meeting in Tucson, Arizona. This led to worldwide recognition of Hugo's theories, along with his innovative techniques and teaching methods.
Since then, Hugo's civil engineering and business backgrounds, sharp entrepreneurial mind, rich cultural heritage and South American roots, together with his keen interest in neuroscience and biochemistry, plus continued research into all aspects of Kinesiology and its related fields, have provided the fertile soil for his ongoing development of this exciting and powerful modality.
Teaching in institutes all over Europe, including Germany's IAK Forum International (the world's largest Kinesiology institute) and institutes in the UK, the US, Russia and Hong Kong, Hugo has built a large following of dedicated practitioners, who are passionate about effecting the profound healing power of this modality, both in their own lives and in the lives of their clients.
In 2004 Hugo established the NK Institute (formerly known as the International College of Neuroenergetic Kinesiology), which in 2008 became an Australian accredited Registered Training Organisation (RTO). Based at his home in beautiful Murwillumbah, New South Wales, overlooking the majestic and sacred Wollumbin (Mount Warning), the NK Institute provides the opportunity for students to study NK, within government accredited Kinesiology courses, from Basic Practitioner level to Graduate Diploma level and beyond.
Hugo's work, Neuroenergetic Kinesiology, is now considered a major force in modern Kinesiology, with practitioners of his method all over the world. His work is as diverse as it is profound - Hugo is renowned not only for his impressive scientific understanding of the brain and nervous system; but his in-depth knowledge of the ancient philosophies of chakras, meridians and eastern spirituality; the modern concepts of psychology, primitive reflexes and survival emotions; and the human sciences of anatomy, physiology, pathophysiology, biochemistry and nutrition.
Since 1998, Hugo has developed 87 courses (65 still currently taught) and authored 103 Kinesiology publications. He has taught over 20,000 hours of Kinesiology throughout Australia, Austria, Belgium, Canada, Germany, Holland, Hong Kong, Hungary, Ireland, Japan, Russia, Spain, Switzerland, Ukraine, United Kingdom, & United States of America. He has presented at over 40 major Kinesiology conferences across Australia, Europe, Canada, Japan, Indonesia, the UK and America.
Almost two decades on, he continues to develop exciting new material and is showing no signs of slowing down.
As Hugo says, "The power is making the unknown known"
Awards
Australian Kinesiology Association 2016 - Long standing member of 20 years
Australian Kinesiology Association 2008 - Kinesiology modality leadership and innovation as a world recognised kinesiology course author and trainer
Australian Kinesiology Association 2001 - Outstanding contribution to the growth in awareness of kinesiology within the community
Affiliations
Associate Fellow Australian Institute of Management (AFAIM)
Australian Kinesiology Association (AKA)
Australian Traditional Medicine Society (ATMS)
International Association of Specialised Kinesiologists (IASK)
Member of the Complementary and Alternative Health Industry Reference Committee